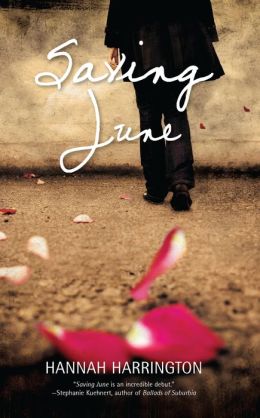 Saving June
by Hannah Harrington
Pages: 322
For fans of:
John Green, David Levithan
Rating: 5/5
Saving June
by Hannah Harrington is an unexpected find that I will treasure for years to come. Without any solid expectations besides a piqued interest from the blurb on the cover, I unknowingly threw myself on a raw, emotional journey.
Summary
Harper Scott is a rebellious teenager who enjoys being the complete opposite of her picture-perfect, straight-A, Homecoming Queen older sister June. One week before graduation, June takes her own life and Harper's world turns upside-down. Faced with multitudes of sympathetic people and an insurmountable wave of pity from everyone around her, Harper is unable to express her true feelings regarding her sister's death. When she discovers a postcard of California, June's ultimate dream destination, hidden in June's room, Harper realizes the deed she must do. With her best friend Laney, the two girls decide to road trip from Michigan all the way to California, where Harper will spread June's ashes across the Pacific Ocean. They are joined on this quixotic adventure by a boy named Jake, who has a mysterious connection to June. Together, the trio drive across the country in Jake's van, experiencing eclectic and memorable events. In the end, Harper not only accomplishes what she set out to do 2,345 miles ago, but also realizes the happiness in life and in being herself.
Thoughts
While the plot may sound like that of a conventional teen novel, Harrington's writing makes the story truly come alive. The beginning was a little slow, but I was soon completely sucked into Harper's world. Harrington was able to connect me to each of the main characters through revealing tangible qualities that made them so real to me. Harper at first had a protective wall around herself, but bit by bit the wall came down as the story progressed. Her feelings soon shined raw and true, and by the end of the novel, I felt like I knew Harper personally. Reading the story, I was able to cheer with Harper at her jubilant moments, cry with her when she was hurt, and truly empathize with all of her feelings. At the surface, Jake seemed like an intense, music-obsessed, inscrutable boy, but I couldn't help but fall in love with him as his altruistic character was revealed. His obsession with music was a unique and enjoyable part of the novel because Harrington included real songs that brought the characters closer to each other. Easy-going and bubbly Laney was a fun contrast to the complicated Harper and Jake. Laney's fierce loyalty and love for Harper, as well as her hilarious antics and comments, were some of the qualities that made her extremely likable. Even the distant June, who is revealed through the words of other characters, was able to profoundly affect me with her words at the end of the novel.
Harrington succeeded in touching me deeply with her novel, both through the compelling plot and the beautifully created characters. The three playlists at the end of the novel were a thoughtful inclusion, and I will definitely have the playlists on repeat for the weeks to come.
The novel is one that I will not not forget quickly, as it holds influential messages through Harper's journey. I hope that others will discover this book for themselves and emerge fully satisfied, and a bit wistful for the adventures the characters had while roadtripping.
Saving June
is definitely on my list of best books ever read, and with the likes of
Looking for Alaska
by John Green.
Notable Quotes
"He took his pain and turned it into something beautiful. Into something that people connect to. And that's what good music does. It speaks to you. It changes you. What I'm trying to say is, it's just nice, I guess, knowing that someone else can put into words what I feel. That there are people who have been through things worse than I have, and they came out on the other side okay...These songs tell me I'm not alone. If you look at it that way, music, music can see you through anything

."
"...I know that I want to be here. Even with the pain. Even with the ugliness...there is so much beauty in just existing. In being alive. I don't want to miss a second."
Author Website
/
Goodreads
/
Amazon